Welcome to the...
WANDERSONG WIKI
136 articles • 223 files • 1,438 edits
ABOUT WANDERSONG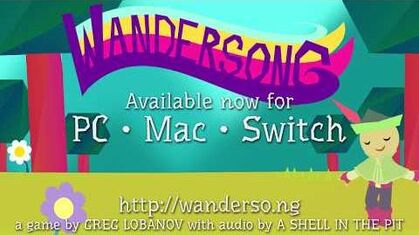 Wandersong is a game developed by Greg Lobanov, Em Halberstadt, and A Shell in the Pit. It is a story and music-based puzzle platformer adventure game centered around the rainbow-colored wheel that allows the Bard to sing different notes.[1]
The game was Kickstarter backed in February 2016, and officially released for PC, Mac, and Nintendo Switch on September 27th, 2018.[2] It released on the PS4 January 22nd, 2019[3], and finally released on the Xbox One on December 6th, 2019.[4]
Plot
"In the beginning, the universe was set into motion by the music of the goddess Eya. Now, as she does every epoch or so, she's going to sing a new song and reset existence. One lowly bard sets off on a journey to preserve the world by collecting pieces of a mysterious melody called the Earthsong."[2]
References